Fighters who are 'Living Legends'...
Steven Wakeling (Scorpians) ..............Julie Kitchen (TouchGloves) ................ Liam Harrison (Bad Company)

There are many other living legends within the UK right now, from the north to the south we as a country are growing stronger and stronger every year. The UK has some of the best fighters currently available outside of Thailand, you should be proud of their achievements and you should try to get to know these stars a little better.

Here are some other names that you need to know:
Paulo Da Silva (Crawley MT), Jay Woodham (Mungkorn Dam), Dave Fensom (Shin Kick), David Paquite (KO Gym), Dellian White (Red Dragons), Olly Watson (Minatours), Frankie Hudders (Franks Gym), Dean James (Pra Chao Sua), Dale White (Deans Gym), Bernise Alldis (Keddles), Christi Campbell (Saints), Sheree Halliday (Sor Khamsing) and many more..
---
Trainers that have inspired me...
Ajarn Jitti Damriram
Ajarn Jitty continues to be a massive light of inspiration for me, I often think back to some of the teaching and guidance he gave me, not only in Muay Thai, but in life! Kru Jitty has inspired me many times not to give in, not to be beaten, to give unlimited perseverance to students, offer a guiding hand to anyone who may need help and belief that if you do for Muay Thai, Muay Thai will do for you! - I am forever thankful and humbled at being able to call you Kru.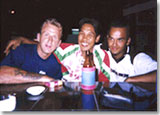 Phykadamn 'Damn'
What I learnt from Phykadamn, was handed down to me through my previous instructor and mentor. Although things have changed between myself and Byron. I would like to thank him for truly showing me something that will stay with me for the rest of my life. To Phykadamn, I thankyou for being one of the first to take in a foreigner to your school, so many years ago. Without that gesture I would never have learnt Muay Thai - Thankyou.
Moe Kiat Jitty

As strange as it may seem, I trained with this man for nearly six months, two times a day, for nearly six hours a day, at the Jitty Gym in Bangkok. And I think it would be fair to say, other than his everlasting energy, and his unsurpassed knowledge of Muay Thai. I know nothing else about him. He has always been in my thoughts, and has left me striving to be better and better - Khap Khun Khrap Kru.
Rajasak and Ratanapon Sor Vorapin

Two great boxers that I had the opportunity to train under, at the infamous Sor Vorapin Gym in Bangkok. I trained under there guidance for four months, reaching heights of achievement in Muay Thai that I have yet to equal. Rajasak a three time Radjadamnurn Champion (Muay Thai), Ratanapon a two time world champion (Western Boxing). For your time and dedication, I thankyou greatly - I was honored to have trained with you both.


Kamon 'Den' Khaengraeng - 300 Fights

Although my time with Den was only a short period of only two months, I learnt a great deal from this man. He was twenty seven years of age (one year older then me) when I trained with him, at the world renowned Lanna Muay Thai Camp in Chiang Mai. Den showed me what the true meaning of being 'a champion' is about. A big heart, and a classiness about him in the ring, that left everyone else standing - Truly, thankyou.
Grand Master Toddy

Making his home in Manchester, Master Toddy opened the first Muay Thai school in England. The school gained notoriety as the trainer began to produce world champions. Students from as far as 200 miles away would drive just to attend one of Master Toddy's Muay Thai classes. In England, Master Toddy ultimately became known as the 'Father of Muay Thai'. His fighters were distinguished champions, and his promotions were always very well-organized and professional. Even today, over a decade since he relocated to Las Vegas, Master Toddy is still known as the number one Muay Thai trainer and promoter in England, being the first to air a live TV promotion from there back to Thailand.


Master Sken

Master Sken's arrival in th UK in 1977, represented the introduction of Muay Thai to martial arts community. He believed that everybody should be able to benefit from the sport training that Muay Thai has to offer. It has increased in popularity and is now one of the truly major styles. Most of the credit for this growth belongs to Master Sken, and without his presence the style would have far fewer followers.
Ajarn Panya Kraitus

On Grand Master Kaet Sriyapai's death-bed, he asked his student Ajarn Panya Kraitus to write a manual on the art of Muay Thai. After many years of writing columns on the subject of Muay Thai in Thai newspapers, collecting information and photographs and with the knowledge that had been passed on to him by Grand Master Kaet, Ajarn Panya Kraitus began to put together the manual, a text-book of Pahuyuth Muay Thai. This took ten years to complete and all of Ajarn Panya's financial resources. His aim was to help the people from around the world understand the art of Muay Thai. The textbook was first written in the Thai language and then translated into English. It is a manual that no self-respecting Muay Thai instructor would be without and is known in the West as the 'bible' of Muay Thai. We are all indebted to this man for his commitment - Thankyou.
---
An excert from Ajarn Panya Kraitus book

"I am afraid that I am getting old so time is running short for me. I have no prospect of writing a complete manual of Muay Thai which has always been my ambition Panya. I will teach you all I know so that you could pass it on to the others ..." - Supreme Master Kaet Sriyapai, 1978.


---
Fighters that have inspired me...
Eval Denton ~ WAKO & ISKA World Champion

The first Muay Thai fight I ever saw, was this guy, at the Tower Ballroom Birmingham. He was small and didn't seem to have anything impressive. That is until the second round when he took a serious kick to the neck, and then later a hard kick to the head. Leaving him very dazed and confused, for what must have been a life time for him. But he shook it off and came steaming right back into the fight with some outstanding techniques and power. Winning the fight on a T.K.O. in the fourth. Sheer guts and determination kept this man going - Pure talent, pure inspiration.
Damion Trainer ~ IKF European Champion

If there is anyone in all of this page that I inspire to be most like as a boxer, it would have to be this guy. A very nice guy, down to earth, and happy. He should be, I don't know what titles he holds at the moment. But I think it would be fair to say, 'all of them'. Both Muay Thai & Kick boxing, British & European titles, at and around his weight. He has worked hard to get where he is, and deserves all that he has achieved. At only 21years of age - he is an inspiration to me.
Lisa Houghton ~ WAKO Pro & ISKA World Champion

I met Lisa in Thailand whilst training at Jitty's, at first glance I thought nothing of her. Lisa was this small, beautiful, blonde lady. Not the sort of thing I wanted to spend to much time thinking about whilst trying to train. Over the next couple of weeks I managed to bump into Lisa a few times at the camp, although we never spoke, the impression she made has never gone away. With all odds against a women achieving anything in Muay Thai, Lisa's overwhelming success has left me to understand - That if you believe, you will achieve.
Ramba ~ 'Mr M16'

Ramba a.k.a. Mr M-16 machine gun, has to be one of my favourite Thai fighters. Comical, funny, compact and very dangerous. Coming from Pattaya, this man fights and displays the same flamboyance as is home town. Usualy coming out to western music 'Cocain can blow your mind, ecstacy is no joke!', he roars at the packed crowds in all the major stadiums in Thailand. Finishing all his fights with a dance and dive out of the ring - He is the Thai catch phrase, 'Same Same, but Different'!
---
Fighters that have become 'Legends'...
Ramon 'Diamond' Dekker ~ 200 Fights (175wins - 90kos)


Dutch Born Ramon Dekker is probably one of the best known European Thai boxers of all time. He has fought against some of the top Thai boxers of his time including Coban whom he fought twice, knocking out Coban in round one, then in a following bout, being knocked out by Coban in an almost copycat version. He has competed around the world and won several championships throughout his career. Noted as a skilled fighter with powerful punches and kicks, and a tendency to go head -to-head with his opponents, which made him a favorite with the Thai's. Dekker is a very good Muay Thai fighter and one who had beaten many Muay Thai champions including Nangpon Nongeeb Pahuyuth for the World Muay Thai Championship in Holland.
Coban 'Cruncher' Lookchaomaesaithong ~ 270 Fights

Coban has traveled the world representing Thailand in Muay Thai contests. He is tough and noted for his hard roundhouse kick. he may not be the most successful Muay Thai fighter of his time but he is certainly one of the most popular. He has knocked out many opponents and as he is prepared to take risks, has in turn been knocked out himself. When Coban steps into the ring, the crowd roars their approval of a fighter who has earned his world-wide reputation through relentless aggression and strength of purpose. Today, he is an instructor in the United States, and may still compete every now and then.
Danny Bill ~ 64-00-07

Coming from France with his very slow and methodical style of fighting during the first couple of rounds, and then his bombardment of knees that he usually unleashes in the final rounds. He has to be one of my all time favourite boxers, mainly because of his mastery of the Knee Bombing techniques that he usually devastates his opponents with.
Khao Sai 'Galaxy' Wanghompu ~ 50-00-01

Galaxy was a hard hitting southpaw, with unbending determination who often came off the canvas to knockout his opponents. He made 19 defenses of his title, of which only three managed to last the distance. Galaxy is a national hero in his native Thailand often made six figure purses that were unmatched until recently. However, he did not fight the top fighters of his day - his best wins were over shot fighters Willie 'Birdlegs' Jensen and later, Rafael Orono. Khaosai's twin brother, Khaokor, went on to win the WBA Bantamweight Title, making the two the first twin brothers to ever win 'World Titles'.
Pongsiri 'Rambo' Por Rumrudee

Rambo (pictured on the right - you can tell by his distinctive shorts) was one of Thailand's most famous Thai boxers, a fighter who gave his all from the opening of the bell to the last. Rambo was responsible for making the Muay Thai scene popular, even for non-Muay Thai enthusiasts. He was the one responsible for the renovations at Lumpinni Stadium, because audiences were too big for the stadium. Rambo created history when ever he fought at Lumpinni stadium, the promoters would take a staggering 3.2 million Baht from the gate.

Sagat 'Streetfighter' Petchyindee ~ 317 Fights

Perhaps one of the very greatest fighters ever to have been born in Thailand and who has a fighting history equalled by no other man. During the course of his career Sagat has had three hundred and seventeen fights winning many and losing very few. His story is a great one. Sagat has as a fighter contributed enormously to his country and to the history of Muay Thai.
---
An excert from - 'Muay Thai: Champions of the Ring'
---
The Fore-Fathers of Muay Thai
Muen Cha-ngad .............Muen Mue .......................................................................Pra Chai Choke ........Muen Muay
Choeng Shok..................Maen Mud...........................................................................Shok Channa............Mee Chue
King Chulalongkorn (Rama V) honorary named teachers of Muay Kaad Chuerk (Muay Boran) and their styles.

Muen Muay Mee Chue - Knight of the Famous Muay - Muay Chaiya (Chaiya Style)
Muen Mue Maen Mud - Knight of the Punch and Strike Hand - Muay Lopburi (Lopburi Style)
Muen Cha-ngad Choeng Shok - Knight of the Clear Fighting Tactic - Muay Korat (Korat Style)
Pra Chai Choke Shok Channa - Lord Lucky Fight and Win - Muay Pra Nakorn (Bangkok Style)
---
Muay Chaiya decendants of Praya Watjeesattayarak
.........
.........
.........
Bramajarn Kaet Sriyapai .............Ajarn Tong Yaleh ............Ajarn Kridakorn Sodprasert ........Ajarn Prang Pramual
Praya Watjeesattayarak - Count and local Ruler of Chaiya - Teacher to Muen Muay Me Chue
Muen Muay Mee Chue - Knight who brought Honour and Prestige to Muay Chaiya
Bramajarn Kaet Sriyapai - Son of Praya Watjeesattayarak - Teacher to Ajarn Tong Yaleh
Ajarn Tong Yaleh - The Great Era of Muay Chaiya died with Ajarn Tong - Teacher to Kru Lek & Kru Prang
Kru Kridakorn 'Kru Lek' Sodprasert - Curently Teaching in Bangkok - Teacher to Kru Ryan Rudkin
Kru Prang Pramual - Curently Teaching in Bangkok ( Muay Chaiya )

Although I am still maping the history of these three different Knights (Muen) and the one Lord (Pra Chai), I hope to one day complete my understanding of these warriors of old. There is alot of information about Muay Chaiya available, books, videos, documentories and even several training gyms in Bangkok open to foreigners. There is however very little information about the other three variations, hopefully one day a few of the riddles and twists will be resolved for me, but for now the journey is all part of the experience!